All Posts
Blog
BDC Common Stock Market Recap: Week Ended September 4, 2020
Posted on September 8, 2020
BDC COMMON STOCKS
Summer Storm ?
This was the week – just before the Labor Day weekend – that the major indices took a tumble.
The price drawdown began on Thursday and continued through the end of the business week.
The S&P 500 dropped (2.31%), the biggest weekly drop since the end of June.
Of course, we cannot yet tell if this is the beginning of the huge market correction – promised to rival the March market madness – or just a normal adjustment.
We do know that the BDC sector was not much affected, even as CNBC cued the red banners and loud sounds that accompany every market price drop.
From the close on Wednesday to the end of the week, the BDC ETF with the ticker BIZD dropped (2.2%), half of the S&P 500's (4.3%) reduction or the (6.2%) fall in the NASDAQ.
For the week, the BDC sector was off only (0.71%).
Typically, we'll need to see several more days of downward prices in the broader indices before investor confidence affects BDC stocks in a big way.
Poor
Still, most of the data points were negative.
36 individual BDCs dropped in price and only 10 increased.
14 of the 36 BDC stocks going down dropped by (3.0%) or more, or one in every 2.5.
By contrast, only 1 BDC went up more than 3.0%.
Exception To The Rule
That was Portman Ridge Financial (PTMN) which just happened to announce a 10b5-1 automatic stock repurchase program this week.
See the BDC Week In Review. 
Up And Down
Leading the price losers in the week was Great Elm Corporation (GECC), off by (13.25%).
Coincidentally or suspiciously – depending on your perspective – GECC's stock price had increased vertiginously even as the BDC and its investment bankers prepared its Rights Offering.
As the chart above shows, the BDC gave up all that upside once the plans to raise new equity AND change investment strategies were revealed to shareholders.
There are several weeks ahead before the Rights Offering is completed and shareholders sign up or not to inject new equity.
At that point, GECC will set a offering price equal to 85% of the weighted average of the last 5 days of trading, and we'll know how much capital GECC will be raising.
This seems to ensure more high drama ahead for GECC and its stock price, but it's always possible investors have found the level they're comfortable with.
At the Friday close of $4.20, the stock is trading at 82% of book and the Rights Offering would be priced at $3.57, or a (30%) discount to book.
Historic
Another BDC in the red during the week that deserves mention is Capitala Finance (CPTA), off (5.93%) on the week.
Notable is that the beleaguered BDC – without a secured lender and in the process of shrinking its balance sheet – broke through its 52 week and all-time low price this week.
The lifetime stock price chart for CPTA is a stark reminder of what can happen to a BDC that loses its way.
If you'd bought CPTA at its IPO in 2013 – and adjusting for the recent reverse stock split – you'd have lost (92%) of what you paid as of Friday.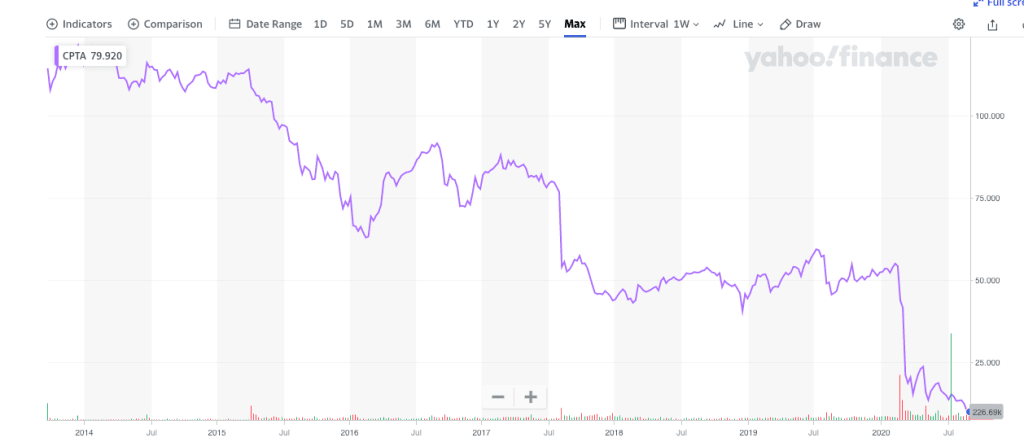 Read All About It !
By chance, this happened to be the week that the BDC Reporter got round to annotating the BDC's IIQ 2020 conference call transcript.
Furthermore, using the resources of sister publication BDC Credit Reporter – we updated the BDC Data Table with our independent estimate of the number and value of underperforming assets in CPTA's portfolio.
For the full list of all the underperforming companies at CPTA, and their files, check out the BDC Credit Reporter's Underperforming Company Table, which can be expanded, searched and re-arranged at will.
A review of some or all this research will make clear why the markets are so unsure about the BDC's prospects, even if management is taking a "business as usual" approach.
Medium Term
Looking beyond the gyrations of a few individual stocks, we can say with some confidence that the BDC sector remains in a very tight price range that began in late May.
As we launch into September – and with the last quarter of a tumultuous year around the corner and after two days of high volatility – we can look back on three months of unusual price stability.
As this chart of BIZD shows, which begins May 27 and ends on Friday, the sector is trading at the same level as on June 11 and August 4.
We've had some higher and lower points, but neither has held for long.
That peak price early in June only lasted a few days and has never been challenged again.
Quick To Judgement
Yet during this period we've had a full slate of BDC IIQ 2020 earnings results and a myriad number of revelations.
The market seems to have made its mind up in the early summer, based on IQ results – and found no compelling reason to make a change since, in contrast to the major indices.
For example, the S&P 500 took off on June 26 and never looked back till last Wednesday.
At this stage BIZD is down (28%) in price on the year and (21.8%) on a "total return" basis, using the Wells Fargo BDC Scorecard Weighted Index. 
Weighing
The good news – we suppose – is that no one can accuse BDC shareholders of irrational exuberance at a time when that charge is being made against investors in "normal" stocks.
The bad news – with the end of the year in sight – is that 2020 promises to be a washout for every BDC common stock investor in price terms.
A Seeking Alpha chart shows that all 46 public BDC stocks we track continue to be in the red in 2020 in price terms.
For even the best performing individual stocks (think HRZN, OCSL and MVC), we'll still have to see double digit price increases to match their price levels at year end.
The median price drop YTD continues to be greater than (30%) and there are 6 BDCs that have dropped more than (50%) in eight months. 
Then there's the 25 regular dividends that have been reduced, suspended or deferred; not to mention several payouts paid mostly in kind.
We Need More
If BDC investors are going to have any chance of seeing any gains in 2020 – whether on a price or total return basis – the market is going to have to do more than remain stable in the months ahead.
At the moment – although fundamentals are better than expected in most cases – there does not seem to be any price catalyst.
Indeed, if the broader markets are about to have a crisis of confidence, there's a risk the BDC sector will get caught up in the downward drift for however long that's last and deepening the YTD gloom.
Maybe we'll have to wait till 2021 – as so many of us already are in different ways – for the BDC sector to get back to  winning ways.
---
BDC Reporter Premium
Free 7 Day Trial!
If you are interested in comprehensive daily coverage of what's happening in the Business Development Company sector consider becoming a subscriber to BDC Reporter's premium services: "BDC News Of The Day". We provide the only daily update on every material development at 45 publicly traded BDCs and for a very affordable monthly fee.
---
Disclaimer: The information on this blog site is for informational purposes only.  Advantage Data makes no representations as to the accuracy, completeness, suitability, or validity, of any information. Advantage Data will not be liable for any errors, omissions, or any losses, injuries, or damages arising from its display or use. All information is provided AS-IS with no warranties and confers no rights. Information is not and should not be considered professional financial investment advice. In all events, Advantage Data is not a broker-dealer, shall not operate as a broker or a dealer, is not holding itself out as a broker or dealer and is not engaged in the business of buying or selling securities or otherwise required to register with the National Association of Securities Dealers.
---
Are you using AdvantageData?
AdvantageData is your fixed income solution for pricing, analytics, reports, and insight on approximately:
500,000+ U.S. and international corporate bonds
Over 300,000+ BDC fair value assessments dating back to 2000
Over 22,000+ syndicated loans
Over 100 equity markets worldwide
One platform 15 products and services from debt to loans to mid-market
Used by top buy and sell-side firms worldwide