Follower
The rising tide of higher market indices seems to be lifting BDC common stock prices.
In a week where the S&P reached a new high, the BDC sector moved up as well.
The UBS Exchange Traded Note with the ticker BDCS, which we use to measure sector price changes, was up 1.07%.
The Wells Fargo BDC Index – on which BDCS is based but includes distributions received – was up 1.18%.
Break Out 
These numbers are notable less for the absolute percentage change involved, which were modest compared to recent weekly moves, but for breaking the sector out of its recent narrow price channel.
The Wells Fargo BDC Index – albeit not BDCS – was finally able to move above the highest point for the sector in the year reached on February 22.
The index closed Friday at 2,682.05, slightly above the 2,681.63 reached two months ago.
We didn't expect a BDC move upwards so late in the cycle but mentioned last week that if the major indices continued to move up, the BDC sector was likely to follow.
That's what seemed to have happened.
Hypothesis
Also – and as mentioned last week – investors may be positioning themselves optimistically for BDC earnings season which begins April 30, and where net book values are expected to soar.
In any case, 35 individual issues were up or flat on the week and only 10 were down.
That's appreciably better than the week before, where 19 were up/flat.
Calm. Carrying On.
Still, this was no mad upward surge.
In fact, only two BDC stocks moved up 3% or more in the week.
One of those was Alcentra Capital (ABDC), which we've covered in a  recent article, and which is engaged in an activist struggle that's boosting the stock.
If there had been no activist, that stock price jump is unlikely to have happened.
Droppers
Two stocks moved (3.0%) or more down: Medley Capital (MCC) and OHA Investment (OHAI) – both current speculator favorites, but also subject to downward drops.
Most everyday BDCs moved in price much more modestly on the week, both up and down.
Other Numbers
Nonetheless, the week saw the total number of BDCs trading within 5% of their 52 week high increase from 13 to 16.
(Like last week, there was no individual BDC trading within 5% of its 52 week low, and only 1 between 5%-10% off).
However, the number of BDCs trading above book value remained unchanged at 17.
Year To Date
With the first third of the year coming to an end, the BDC sector remains a remarkable 17.6% ahead using the "total return" of the Wells Fargo Index.
On a price basis – using BDCS – the sector is up 11.8%.
By comparison – as the chart below shows – the S&P 500 is up 17.3% in price terms in one of the fastest run-ups in stock market history.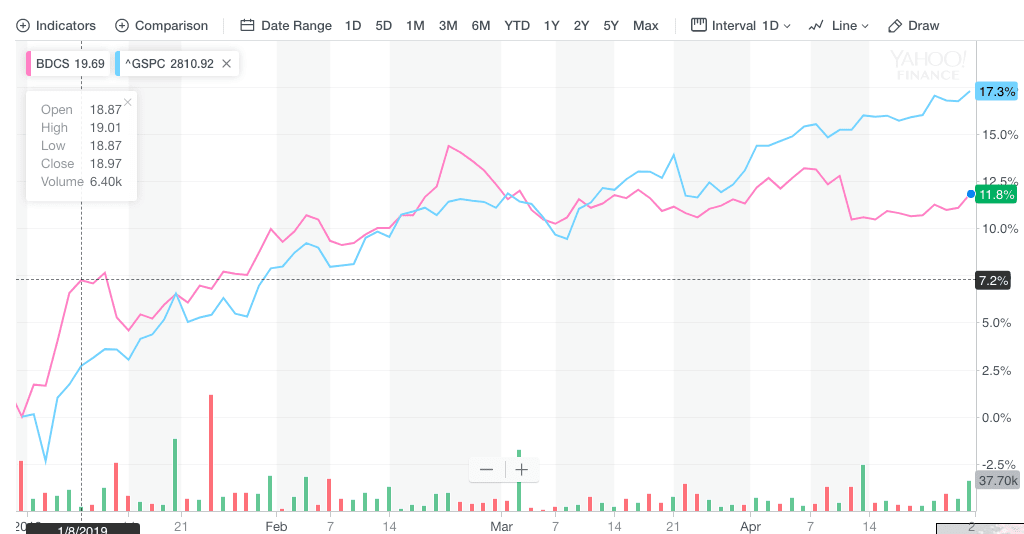 The chart, though, also shows that the BDC sector took only half the time period to reach its price apex and has been stuck in neutral ever since, this last week notwithstanding.
The S&P 500, though, just keeps going and going…
Pulling Back
Since the beginning of the rally on December 20, 2018 – as measured by the Wells Fargo BDC Index – the sector is up 20.8%.
Using BDCS, whose nadir was December 21 and began to bounce back Christmas Eve, the price change is 15.3%.
Yo-Yo
That's impressive stuff until you remember that BDCS dropped (18.5%) between late August and December 21, 2018 for no discernible reason.
This up and down price action has been a feature of the BDC common stock sector in all the years we've been tracking its movements.
BDCS has only been around since early 2011, but in the 8 years involved, there have been countless moves of 5% or more up and down.
Major Cycles
However, as this lifetime chart of BDCS shows, the sector has undergone 5 major distinguishable stages of decline and rally since 2011: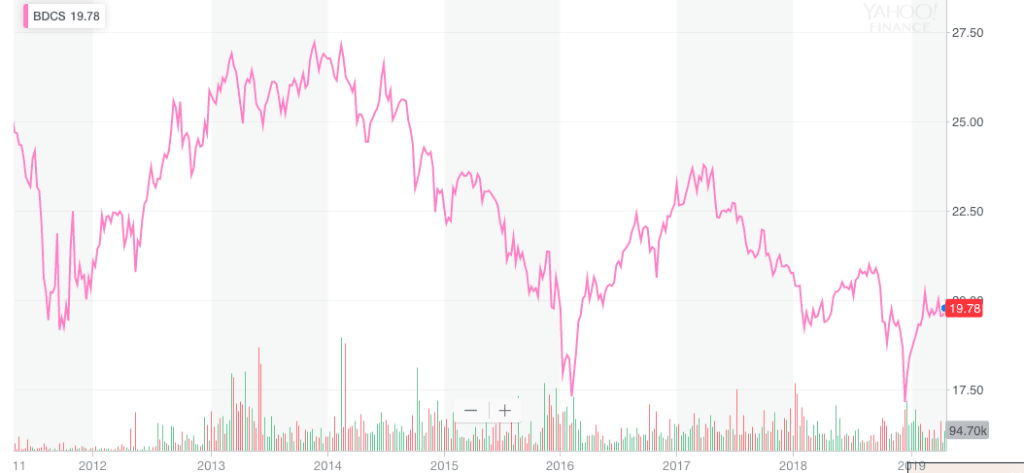 Phases
First there was the Euro-crisis of 2011, which caused a fast slump in prices from the spring that ended in October 2011.
That was followed by a two year rally that topped in November 2013.
Then came the slump that began at the same time as oil prices dropped from $100 a barrel in July 2014.
That lasted a gut wrenching 20 months, till February 2016.
By the end BDCS had dropped (37%).
That was followed by a rally that lasted till the spring of 2017, in which time BDCS moved up 37%.
Since then, the BDC sector has continued to decline till this day, using BDCS as our guide.
Down Slope
The Christmas Eve to April 2019 rally is only a minor counter move in what is generally a downward direction since 2017.
As we've said before, what remains unclear is whether the sector is on the way towards establishing a new long term upsurge or we are at a way station to a new all-time low.
If the former is to be true, the BDC sector still has a long way to go.
Just to match 2018's high point, BDCS has to move up over 6% and to reach the spring 2017 level: 20%.
For many months now, the wind of market conditions has been at our back.
Should that change, this rally within a broader downward trend could come to an end.