All Posts
Blog
BDC Common Stocks Market Recap: Week Ended August 13, 2021
Posted on August 17, 2021
BDC COMMON STOCKS
Week Thirty Two 
Record Breaking
During these dog days of summer, the major indices – and the BDC sector – broke records in the week ended August 13, 2021.
On Friday, the S&P 500 and the Dow Jones Industrial Average reached new all-time highs, with nary a ticker tape parade or much mention in the financial press.
These new records were reached even as consumer sentiment dropped to a "pandemic-era low".
The BDC sector – with IIQ earnings season almost complete – followed suit, with a record of its own.
The end of week Wilshire BDC Index on a "total return" basis was at its highest recorded level of 342.510,  and higher than the prior record set on June 11, 2021 of 337.801.
Admittedly, our other measuring stick for BDC sector price performance – the UBS Exchange Traded Note with the ticker BDCZ that holds most of the sector's stocks – remained beneath the $20.29 fifty two week high.
Still, BDCZ closed at $19.97, only (1.6%) off the sector's Everest.
Supporting Evidence
A host of the other metrics that we track weekly posted big numbers.
For example, 36 of the 41 public BDC stocks we track were up in price, same as last week.
Of the 36 stocks in the black, 10 moved up 3% or more.
Most impressively, more than two-thirds of the BDC universe (28) closed the week trading within 5% of their own 52 week highs.
That's the best showing by this metric since the week ended June 11.
In fact, all but 3 BDCs are trading within 10% of their 52 week price record…
Context
We can now see clearly on the BDCZ 3 month price chart below that the sector peaked in mid-June with a closing price of $20.24.
In the choppy weeks that followed – and which we covered daily on these pages – BDCZ dropped as much as (6.6%) on July 19, 2021.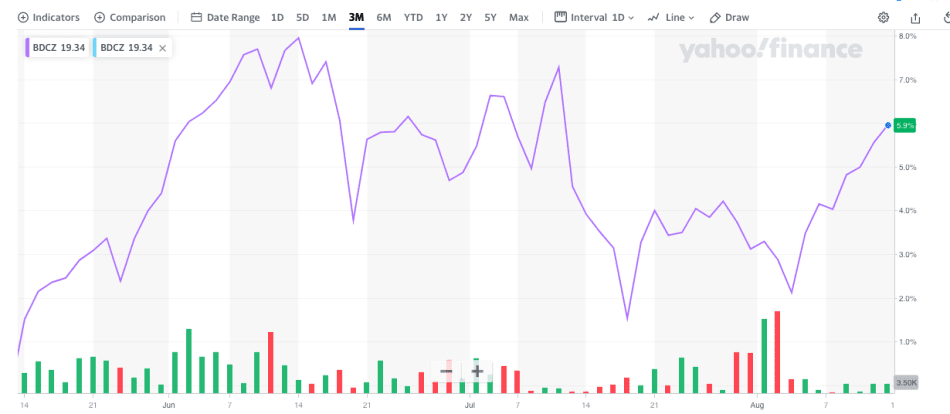 Even as recently as August 4, BDCZ was as low as $19.13, but has since gone on a 3.9% increase to reach the current level.
Who To Thank ?
We could argue till the cows come home whether a rising tide is indiscriminately lifting all boats, or investors are reassured by the excellent BDC results being posted during earnings season.
Certainly – as this year-to-date chart of BDCZ along with the S&P 500 and the Dow Jones illustrates – all these indices have been headed in the same direction all year.
What's Next ?
Can the BDC sector's upward price momentum be maintained ?
This is the time – with virtually all the half year results in that investors and analysts have a re-think about the future and compare what BDCs cost to their expected performance.
Sometimes we've seen across the board price decreases as the market's calculations are made, and sometimes the opposite.
Up, Up And Away
We continue to believe the likeliest path is to a further upside, pushing past the $20.29 BDCZ record.
There's certainly plenty of momentum, with 6 BDCs reaching new 52 week highs in the past 5 days.
Moreover, the number of BDCs trading above net book value has increased from 15 to 19.
We've seen several analyst upgrades mentioned in the financial press and there may be even more happening behind the scenes.
Our Regular Aside
As always, though, we wonder how long the stock market can continue to ignore the risk of the pandemic wrecking the economy because of the latest surge.
Investors in the sector should continue to look as much to broader investor confidence markers as BDC fundamentals for a sense of what might happen next in the short term.
Beyond
Medium term – and assuming that the economy continues to expand as per the general consensus – BDC prospects continue to look good.
We've seen 38 BDCs report NAV Per Share to date for the IIQ, of which 37 have increased.
The average NAV Per Share increase in the IIQ 2021 is 2.8% (see the BDC: NAV Change Table).
16 BDCs have reported higher NAV Per Share in the IIQ 2021 than before the pandemic, and 9 are very close.
Projections
Our very unscientific estimate is that the bulk of BDCs will continue to report higher NAV Per Share in the rest of the year.
We also estimate that 18 BDCs will increase their total payouts over the next 12 months by comparison with their current dividend rate.
More importantly – with the exception of Newtek Business Services (NEWT) which will be changing it's legal status and dividend strategy – everyone else should be unchanged.
Comparisons
By contrast, investors in high yield bond funds (HYG) and large cap leveraged loans (BKLN) are still having to contend with ever lower distributions.
Currently HYG – annualizing the latest monthly distribution – yields 3.9% and BKLN only 2.9%.
Compare that with BDC yields running around 8.0% (depending on which payouts you include and whether you leave out the two non-dividend payers: PFX and LRFC).
Caveat Emptor
Which is not to say that there are not risks that could erode BDC earnings and cause a few players to reduce their dividend at some point in the next 12 months.
Several BDCs are earning, or out-earning, their distributions only thanks to fee waivers from their managers.
Should that advisor support be pulled away before their income grows sufficiently, a cut in the dividend could be forthcoming.
Here is a list of the BDC tickers in this predicament: AINV, BCSF, BKCC, CCAP, FSK, GSBD, MRCC and NMFC.
However, nothing is written in stone and the BDCs – and theirs managers – have options to avoid these sort of unpopular moves.
Squeezed
A more general threat facing the sector is a pressure on overall portfolio yields as new loans get booked at lower spreads because of "competitive pressures".
Most BDCs are reporting that new investments are paying less than what's already on the books.
There's nothing to suggest this phenomenon has run its course.
In fact, competition might get worse if the current torrid pace of new deals slows down in the future, everything else being equal.
Solutions
Of course, that reduction in income can be remedied in a number of ways.
We've heard several BDCs talk glowingly about the prospective returns from investing more in second lien loans.
Also, off balance sheet JVs are back in favor – after a hiatus caused by the pandemic – because of their higher than average yields caused by using third party leverage.
Most any BDC with low yielding but supposedly "safer" syndicated loan assets is cashing those in for direct lending, with its plumper yields.
Other players are promising to reduce the percentage of their portfolio in non income producing equity stakes – many of which have high values and are suddenly liquid.
This will bring in more capital that can be deployed into income producing investments.
Most every BDC believes they are under-leveraged relative to their "target" regulatory debt to equity and are promising – despite a bout of repayments – to grow their AUM going forward.
(Of course, all these steps result in more long term risk being taken, but investors don't seem to be fazed by this).
Liability Management
Less spectacularly, most BDCs are still benefiting – or will shortly – from lower borrowing costs.
The BDC Reporter has covered a multitude of refinancings of unsecured debt at spectacularly lower yields, which will reduce borrowing costs for years to come.
(This week we had one very low yielding issue from Owl Rock Capital (ORCC) at 2.875%, which will reduce the BDC's average borrowing cost.
Also, Gladstone Investment (GAIN) went back to the public markets to repay its Term E Preferred and brought the yield down from 6.375% to 4.875%).
Getting less press – but reflecting the general pressure on loan spreads – multiple BDCs are shaving down the cost of their secured revolvers and CLO securitizations.
With credit losses more the exception than the rule, the overall economics of the BDC sector are looking favorable all the way into 2022.
Question Mark
Will all the above be sufficient to keep the BDC sector popular and push prices higher as investors return from the beach and the mountains ?
We think so, and for some time to come until some new catalyst for downward change pops up.
That's a "known unknown" at this point, but with the benefit of eventual hindsight will seem blindingly clear.
---
BDC Reporter Premium
Free 7 Day Trial!
If you are interested in comprehensive daily coverage of what's happening in the Business Development Company sector consider becoming a subscriber to BDC Reporter's premium services: "BDC News Of The Day". We provide the only daily update on every material development at 45 publicly traded BDCs and for a very affordable monthly fee.
---
Disclaimer: The information on this blog site is for informational purposes only.  Advantage Data makes no representations as to the accuracy, completeness, suitability, or validity, of any information. Advantage Data will not be liable for any errors, omissions, or any losses, injuries, or damages arising from its display or use. All information is provided AS-IS with no warranties and confers no rights. Information is not and should not be considered professional financial investment advice. In all events, Advantage Data is not a broker-dealer, shall not operate as a broker or a dealer, is not holding itself out as a broker or dealer and is not engaged in the business of buying or selling securities or otherwise required to register with the National Association of Securities Dealers.
---
Are you using AdvantageData?
AdvantageData is your fixed income solution for pricing, analytics, reports, and insight on approximately:
500,000+ U.S. and international corporate bonds
Over 300,000+ BDC fair value assessments dating back to 2000
Over 22,000+ syndicated loans
Over 100 equity markets worldwide
One platform 15 products and services from debt to loans to mid-market
Used by top buy and sell-side firms worldwide