All Posts
Blog
LevFin Insights BDC Portfolio News 4-22-19
Posted on April 22, 2019
LBOs at API Technologies, GlobalTranz to take out debt held by BCSF, PFLT, Audax, BBDC, PSEC
Loan market conditions continued to strengthen last week amid a paucity of new-issue activity ahead of the week's early close. Both the bond and loan markets were seasonably slow, with a total of $2.6 billion from five bond deals and $2.1 billion of loans launched via seven issuers. Time-sensitive M&A situations accounted for nearly all of the week's new deal flow in loans.
Download: LFI BDC Portfolio News 4-22-19
As such, the broader secondary loan market continued its ascent last week, with the average bid price of the Credit Suisse Leveraged Loan Index reaching 97.28% of par by Wednesday's close, up another 10 bps from the April 12 close of 97.18 and 71 bps from the month's opening price of 96.57, for a month-to-date return of 1.18%. The market was resilient Wednesday in the face of two BWICs hitting the market that collectively totaled some $502 million, with nearly all of both portfolios trading, according to sources.
Bellwethers continued to creep higher. The Refinitiv term loan due 2025 (L+375), for example, was up to a 98.875–99.25 market as of Thursday morning, versus the mid-98s about a week earlier. And with the recent strength in the secondary, some L+175 names were bid with a par handle, such as the HCA TLB-11 due 2023 and the Hilton Worldwide term loan due 2023 (L+175).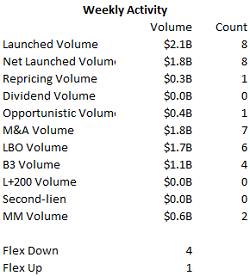 Portfolios in brief: Holds reflect most recent reporting period available
BCSF, PFLT: API Technologies Corp. (TBD) — LBO
RBC Capital Markets, UBS and Antares Capital launched a $245 million first-lien term loan for API Technologies Corp. to back its buyout by AEA Investors. A lender meeting is set for tomorrow, April 23. The acquisition, announced earlier this month, is expected to close in May. In addition to the first-lien term loan, the facilities include a $50 million revolver, a privately placed $90 million second-lien term loan and a $50 million second-lien delayed-draw term loan, which will not be drawn at closing. As previously reported, AEA Investors agreed to acquire API from J.F. Lehman & Co. API was previously financed via a $274 million unitranche from Antares Bain Capital Complete Financing Solution that closed roughly one year ago. The Antares Capital/Bain Capital JV was lead left arranger and served as administrative agent on the deal. Holders of the company's existing 1L debt (L+575) due April 2024 include Antares Bain Capital Complete Financing Solution with $117.9M in principal amount and PennantPark Floating Rate Capital with $5M. PennantPark and Bain Capital Specialty Finance also hold unfunded revolver debt.
Audax, BBDC, PSEC: GlobalTranz Enterprises (B3/B-) — LBO
J.P. Morgan set price talk of L+475-500 with a 0% floor and 99 OID on the $390 million of term debt backing Providence Equity Partners' planned acquisition of GlobalTranz Enterprises. Commitments are due by noon ET Thursday, May 2. The $390 million, seven-year loan is split between a $310 million funded tranche and an $80 million delayed-draw component. Lenders are offered six months of 101 soft call protection. Providence Equity earlier this month agreed to purchase the business from Jordan Co., with closing expected within 60 days. Audax Credit BDC holds $998,000 of the company's existing 1L debt (L+425) due June 2025. Holders of the company's 2L debt (L+800) include Barings BDC with $3M and Prospect Capital Corp. with $12.5M.
Download LFI BDC Portfolio News 4-22-19 for BDC investment details provided by Advantage Data; click through links to view stories by LFI.
thomas.dunford@levfininsights.com
212.205.8552
---
Are you using AdvantageData?
AdvantageData is your fixed income solution for pricing, analytics, reports, and insight on approximately:
500,000+ U.S. and international corporate bonds
Over 300,000+ BDC fair value assessments dating back to 2000
Over 22,000+ syndicated loans
Over 100 equity markets worldwide
One platform 15 products and services from debt to loans to mid-market
Used by top buy and sell-side firms worldwide