NORTHERN IRELAND AND UK ANNOUNCED A FIVE-WEEK PROCESSS aimed at restoring the Northern Ireland Executive and Assembly. The main political parties in Northern Ireland, the UK and Irish governments will all be involvedto re-establish full operation of the democratic institutions. This follows statements from Varadkar that a no-deal scenario would put Ireland in a difficult situation. Senior Conservative Party members are calling on May to limit the Irish backstop to one year or remove it completely.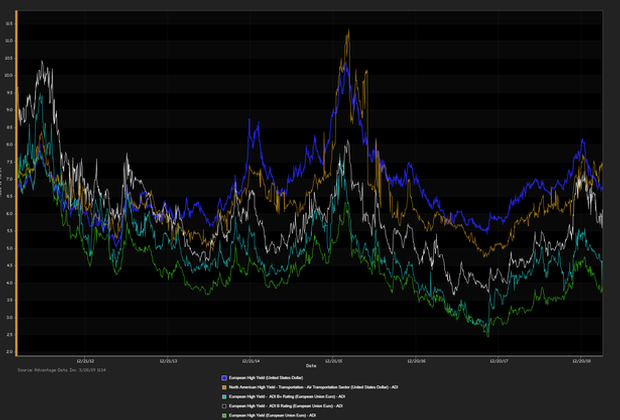 THE UK ECONOMY FEELS PRESSURE AS BREXIT LAGS ON.
Subdued capital expenditures
 by businesses has been overlooked as 
strong employment figures capture opptimism
. The 
tight labour
market and 
low investment in capital
 will likely "
accentuate the chronic under-performance
 of UK productivity," says Goldmanc Sachs economist. RBS announced 
CEO Ross McEwan will be stepping down
 and warned that Brexit uncertainty would 
cloud the revenue picture
 in the coming months. 
Deutsche
Bank
 defers questions on broader strategy as 
merger talks with Commerzbank is abandoned
. 
ADI (Advantage Data Inc.)
 extensive corporate-bond index data showed a 
net daily yield increment for high-grade versus high-yield 
constituents. 
High-grade bonds edged out high-yield debt
 as of 3 PM, London time.  Among European high-grade bonds showing a concurrence of top price gains at appreciable volumes traded, 
  Lloyds Banking Group PLC (USD) 4.582% 12/10/2025 
made some analysts' 'Conviction Buy' lists. (See the chart for 
Lloyds Banking Group PLC bonds 
below). 
Anna Pickett
 (
apickett@advantagedata.com
).
Sovereign-Debt Snapshot
Country
Maturity (Y)
Yield (%)
Previous (%)
Spread (bp)
Australia
10
1.796
1.796
-73.7
Belgium
10
0.469
0.443
-206.4
France
10
0.371
0.348
-216.2
Germany
10
-0.006
-0.010
-253.9
Italy
10
2.695
2.626

16.2

Japan
10
-0.029
-0.036
-256.2
Netherlands
10
0.176
0.168
-235.7
Portugal
10
1.186
1.171
-134.7
Spain
10
1.092
1.070
-144.1
Sweden
10
0.157
0.238
-237.6
U.K.
10
1.157
1.179
-137.6
U.S.
10
2.533
2.525
…
Credit-Default Swap Market
LATEST NEWS: Top moves, sovereign tighteners (5Y): Korea 33 bp and China 43 bp. Sovereign wideners (5Y): Austria 12 bp and Ireland 31 bp.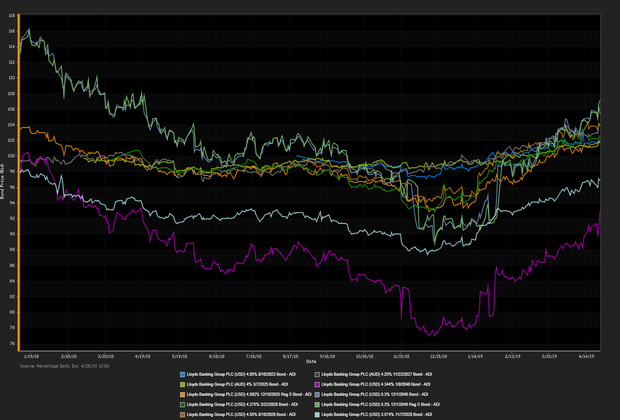 New Issuance
New Issues

New Issues [Continued]

1. ASR Nederland NV (EUR) 3.375% 5/2/2049 (04/25/2019): 500MM Subordinated Notes, Price at Issuance 98.944, Yielding 3.502%.

2. BNP Paribas (USD) 2.545% 7/26/2019 (04/25/2019): 50MM Secured Notes, Price at Issuance 100, Yielding 2.55%.
ADI Indexes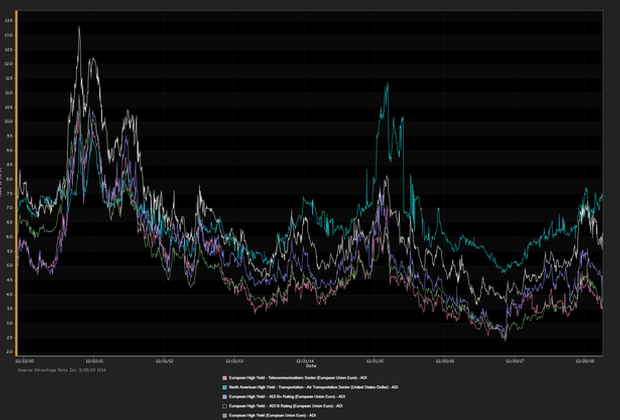 DATA CHECK:
| | |
| --- | --- |
| iShares Core EUR UCITS | iShares Euro High Yield UCITS |
| NAV as of 04/26/2019, 132.08 | NAV as of 04/26/2019, 104.04 |
| Daily NAV Change (%) -0.10% | Daily NAV Change (%) -0.04% |
OVERALL EUROPEAN CREDIT MARKET:
The euro-zone economy shows signs of positive momentum, although conditions are expected to deteriorate hindered by the termination of quantitative easing, weakening credit rating quality, and uncertainty regarding the outcome of Brexit. Closely watched indicators and rates:
Eurostat's unemployment rate: currently 7.8% (seasonally adjusted, February 2019)
Eurostat's quarterly GDP: 0.2% (2018 Q3 Final)
6-month Euribor: current value –0.230%, as of 04/25/2019
Copyright 2019 Advantage Data Inc. All Rights Reserved. http://www.advantagedata.com
Information in this document should not be regarded as an offer to sell or solicitation of an offer to buy bonds or any financial instruments referred to herein. All information provided in this document is believed to be accurate. However, Advantage Data and its sources make no warranties, either express or implied, as to any matter whatsoever, including but not limited to warranties of merchantability or fitness for a particular purpose. Opinions in this document are subject to change without notice. Electronic redistribution, photocopying and any other electronic or mechanical reproduction is strictly prohibited without prior written permission from Advantage Data Inc.